JAVA Developer (m/w/d)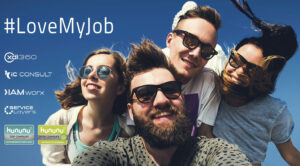 For our office in Bulgaria, UK or Remote we search for you as JAVA Developer (m/w/d), Ref. JVDV-1124-WS.
Are you passionate about IT security, digital identities and data protection and want to develop exciting Identity and Access Management (IAM) solutions for our customers? You are fascinated by modern technologies and like to plunge into new adventures? Then you've come to the right place!
Duties and Responsibilities
As a member of an agile DevOps team, you develop and operate solutions for identity and access management
You accompany the entire life cycle: from design and implementation to integration and productive operation
You actively contribute to architecture and design discussions around our customer-specific solutions
You apply the latest techniques such as continuous delivery, zero downtime and cloud native principles for highly scalable, fail-safe solutions
You will be involved with the latest technologies in identity and access management, API management and IoT
Immediately after your start, you will be actively involved in challenging projects with well-known customers, such as Allianz, Audi, BMW, Siemens. Furthermore, you will join our Bootcamp for new employees, where you will get to know other colleagues and learn more about our company values and work culture. In the beginning you will be fully supported by a personal mentor until you have a sound understanding of our business
Skills and Experience
You have successfully completed an apprenticeship in an IT subject or have a degree in computer science, business informatics, mathematics or a related course of study
You have at least one to three years of practical experience and are an expert in Java and the Java ecosystem, .Net or object oriented programming languages, or want to become one
You are interested in cloud-native architecture and have perhaps already some experiences with them or implemented your first project with them
You are familiar with SQL and/or NoSQL databases and ideally you've got several years experience with such systems in production
You have a broad technical understanding, are interested in IT security and are open to new trends and technologies
You have very good English skills (B2-C1) and perhaps even speak German (optional)
Benefits
Above-average pay, top-quality equipment incl. private use, personal coach
Access to personal and professional training and development (not catalogue based)
Access to German and English courses sponsored by the company
Flat organisation, short decision-making channels and a high level of personal responsibility with a lot of room for decision-shaping in an established company
Strong focus on your work-life balance, the possibility to work from home
Promotion of the corporate climate, e.g., through regular team and company events in a relaxed atmosphere, large company-wide events in the summer and winter
Health insurance
Gym sports card
25 instead of 20 days' holiday
flexible working hours
Team events